My rating: 4 of 5 stars     
"On the outside, always looking in

Will I ever be more than I've always been?

'Cause I'm tap, tap, tapping on the glass.

I'm waving through a window

I try to speak, but nobody can hear

So, I wait around for an answer to appear

While I'm watch, watch, watching people pass.

I'm waving through a window, oh.

Can anybody see? Is anybody waving back at me?"
In the summer of 2017, my favorite singer, Adam Young (of Owl City fame), was approached by the creators of the play Dear Evan Hansen to put an OC twist on Ben Platt's "Waving through a Window." The cover was released on June 23, 2017.
Young stated with the release of the song:
"When I was first introduced to the character of Evan Hansen, I felt like I was watching myself in high school. I knew how it felt being on the outside looking in. I knew how it felt waving through a window, wondering if anyone was waving back at me. I had terrible social anxiety, I was painfully shy, I didn't have many friends and I rarely spoke to my classmates. I viewed social activity as a threat, not as an opportunity to share."
Now, I'd love to put Young's entire statement here, but the word count limit on here mandates that I get to the meat and potatoes of this review immediately.
So, before I begin the actual review, a little summary is in order.
The story opens with Evan Hansen, a senior in high school who struggles with chronic anxiety and poor self-image. He is trying to complete a therapy assignment in which he has to write a letter to himself. He gives up after struggling for a bit and goes to school, his first day filling him with dread. During lunch, he encounters fellow student Connor Murphy, who quickly establishes himself as something of a bully after pushing Evan to the ground over a misunderstanding.
Afterward, Evan goes to the computer lab to work on his letter assignment, deciding to just write down how he really feels, rather than what he thinks the therapist wants to hear. The resulting letter is a confession of feeling terribly alone and wanting something more, while also confessing that he has a crush on Connor's sister, Zoe. Connor finds the letter and takes it, leaving Evan in panic mode. The next day, however, Connor's parents meet Evan and reveal that their son took his life the night before.
Wanting to help the family heal, Evan pretends to have been Connor's closest friend. This lie leads him and a couple of school friends to create a memorial project for Connor and Evan is no longer invisible, having garnered worldwide attention as Connor's best friend.
But as the situation grows more complicated, and the story gets deeper, it becomes harder for Evan to keep up. And, when the Murphys' lives are threatened by the deepening lie, Evan has to make a choice that will change everything.
Wow, this was good! I did not expect Evan Hansen's story to be so engrossing! I was on the edge of my seat every minute of it, waiting for the inevitably heart-wrenching ending. As wrong as Evan's lie itself was, I did like that he wanted to do something to benefit others with it and never really intended to harm anyone, and it was his fear of hurting others that drove him to such drastic measures. I also think Evan's backstory with his parents having gotten divorced was a great addition, because it is implied to be part of why he lied: he felt alone in his own broken family and felt loved by Connor's parents. Granted, this doesn't excuse his actions of lying in the first place, because that is a very selfish reason to lie, but it made him a lot more sympathetic than he would have been otherwise since he just wanted to feel loved.
His all-consuming fear of rejection and social interaction helped to make the overall story an agonizing nail-biter – but that's a good thing.
"In front of me, on my computer screen, is just one name: Evan Hansen. Me. That's all I have.

I place my fingers on the keyboard. No more lies."
If only he had taken that lesson with him to the Murphys' house the first time!
Now, I need to talk a bit about the Murphys, since they play such an integral role in the story.
I want to put in a brief word about Connor and Zoe's parents, Cynthia and Larry, before talking about Connor.
I feel like we don't see that much of Larry in terms of what he's like, but I do like that there is one interaction between him and Evan that is a lot like a father-son bonding activity. Basically, Larry was going through some old stuff of Connor's and came across a baseball glove that he'd never had the chance to give him. He ends up giving the glove to Evan in a very bittersweet interaction. Even though, as I said, Evan deserved none of it, it was still nice to see Larry want to share something so special, even if it was under false pretenses.
"'This glove is really cool.' I pick up a baseball mitt.

'Pretty nice, right?' Larry says, seeming just as happy to have switched topics. 'You can have it if you want.'

'Oh. No. I couldn't.'

'Why not? It's never been used. I probably bought it for a birthday or something.'

Only now does it sink in whose baseball glove this is. To hand it back wouldn't look right. Wouldn't feel right, either. A birthday gift. Connor will never get another one. Even worse, the gifts he did get are being given away."
It was at this point that I felt a sort of twinge in my stomach that I can't quite explain…
As for Cynthia, I really found myself feeling bad for her after Connor died. It was obvious from the moment she was introduced that she was struggling horribly with this. And who can blame her? No parent should ever have to bury their kid and it was clear that she needed Evan's support as much as he felt he needed hers. Seeing her react in such a realistic manner drove the impact of Connor's suicide home, making the tragedy all the more heartbreaking.
Now, I need to talk a bit about Connor's sister and Evan's eventual girlfriend, Zoe. I have to admit, I'm not really that in love with her, because it was pretty obvious to me the role that she played in the story. I know Evan really cared about her and it was clear that she was struggling after Connor died, but I wish we'd seen a bit more of that struggle. Like Connor's spirit visiting her room more than once and really ruminating on the impact his suicide had. There is a moment where he does go, and he hears her sing, and this does give some insight into how this tragedy affected her. Evan also comforts her as she mourns Connor at one point, but I feel like there was much more to her that was being withheld. I felt like I wanted to see more of her inner feelings come to the surface and Evan really have to struggle with that obstacle as well. It's a small quip, though, and what we did get on her was enough to point out what was happening with her.
"He says here that when it closed, he felt like his childhood ended. It makes sense when you think about it. That's around the time his behavior started changing.

Um, no. If it's answers you want, Mom, you're digging in the wrong place. That's one thing about my mother. You see, my father is convinced there's only one right answer to every question. But my mother will keep searching forever. She'll try anything and everything. Sounds noble—and maybe it is—but even that approach can start to feel like torture. Especially when you're the lab rat.

I can't do this, Zoe says. She drops the papers and rises from the couch. Thankfully, someone in my family seems to have a functioning bullshit detector."
Okay, I admit it. That's funny.
Finally, let's talk about Connor. We don't see much of him while he's alive, but that is because his death is the major event that sets the plot in motion. What I like about what was done with his character is that we see his viewpoint from the grave! It was so refreshing to see things from his perspective because it offered such a stark contrast from the front Evan put up, even though Evan himself knew that it was all a lie. In particular, seeing Connor go through his own house one last time before his spirit finally rested brought tears to my eyes.
Before I move on, I want to put in a word about Connor's relationship with his actual best friend Miguel. Connor admitted to having pushed Miguel away, but before that, we do see some brief recollections of time they had spent together. And I honestly thought they were a couple the entire time!
I really liked seeing Connor actually have someone with whom he could be open and completely honest. Miguel was the type of person who was very up-front about everything and I felt that Connor really needed that in his life, making his split with him all the more devastating, since at that point, it was obvious what was coming.
"Standing on a street corner, I sent Miguel another message. This one was agonizing to write. Even more agonizing to feel. But the words alone were the simplest I knew:

I miss you.

I laid myself bare. No room for misinterpretation. What I felt. The rawest me."
This honestly felt like Connor's own "Dear me" letter, in a way. Heartbreaking.
And last, but certainly not least, the plot.
I know that Connor's introduction from the grave is a new addition with the novel (it wasn't in the original play) but, honestly, I felt that it was one of the best things about the story. As I said before, it was awesome seeing Connor follow Evan and gain insight into how his parents handled his suicide. In particular, Connor trying to help Evan during his suicide attempt was incredible to see.
"I bend down, get right in his face. I try to reach him. The way someone once tried to reach me.

It's the last instinct we have. And the most difficult. Nearly impossible. But still, it's our only choice:

Own it, I say.

I wasn't able to.

You hear me? Evan? That's what you do. You get up. And you own it."
Hmm…. Maybe Connor and Evan could have been friends, after all….
All in all, this story was wonderful. I really need to get tickets to the play now, see where it all began and how. I am that invested in this wonderful story, and I think I may have discovered a real gem here. Highly recommended!
~~~~~~~~~~~~~~~~~~~~~~~~~~~~~~~~~~~~~~~~~~~~~~~~~~~~~~~~~~~~~~~~~~~
Extras time! Because it's always so much fun when there's extras involved!
My favorite extra in my hard copy is the list of Connor's favorite books. I admit, I have a favorite or two on here as well. It was nice to see his taste in stories touched upon here, almost as a sort of remembrance thing. It just made his suicide feel all the more real, even if he himself was fictional. I like little left-behind tokens like that.
Finally, I can't just leave this without touching upon the play, so here's the original cast listing! (NOTE: THIS CASTING HAS CHANGED!)
Ben Platt as Evan Hansen
Rachel Bay Jones as Heidi Hansen
Laura Dreyfuss as Zoe Murphy
Mike Faist as Connor Murphy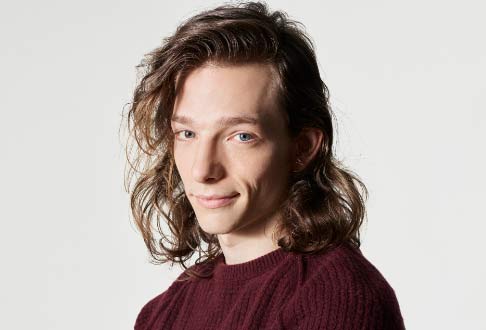 Kristolyn Lloyd in her Broadway debut as Alana Beck
Michael Park as Larry Murphy
Will Roland in his Broadway debut as Jared Kleinman
Jennifer Laura Thompson as Cynthia Murphy
Well, this was fun. Please excuse me while I go listen to Adam Young's cover of "Waving through a Window" a million times!